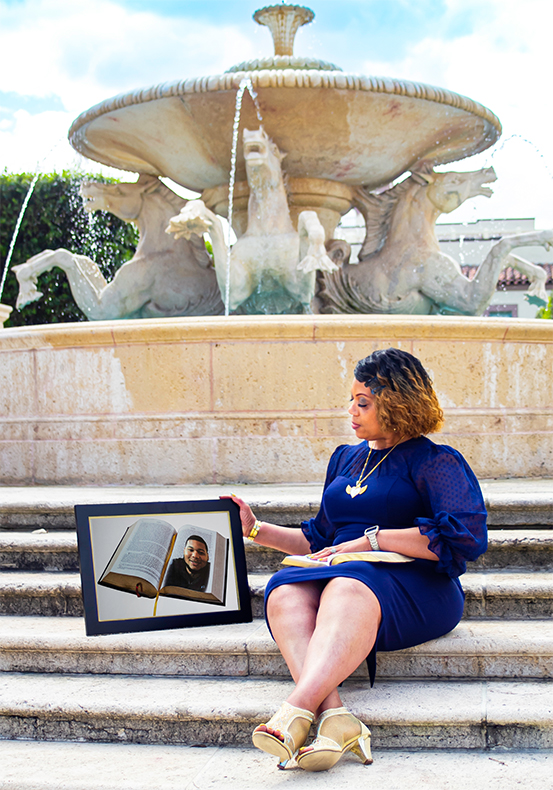 My name is Berta Leslie I was born and raised in West Palm Beach, Florida. I am the proud mother of three young adults. My love for God, humanity, my community, and the passion to be of service to others called me to be a part of his discipleship in the ministry. I am a servant on the ministerial board, teaching and preaching the doctrine of God throughout local churches in Palm Beach County, and also with the outreach feeding program.
I am better known as "Ma". My son Travis gave me that name as a baby when he said his first word and he called me "Ma" until his untimely death on June 10, 2020. His death was caused by being fatally shot while he was in his car at a traffic light. The name Ma will always be cherished by me because it is, in essence, a part of my son.
Who was Travis?
Travis was my youngest child he was my baby boy, born and raised in West Palm Beach, Florida. Travis was a mannerable and respectable young man whom was always helping and giving others. He was loyal, dependable, a hard working young man who had a heart of gold - always telling you he loved you with hugs and kisses. His smile would win your heart.
Travis was a son, brother, a Father of three beautiful children whom he loved so dearly, an uncle, nephew, cousin, and a friend. He was filled with so much life and love and he embraced fatherhood by taking responsibility and accountability for his children. I am so thankful to God for letting me borrow him for twenty five years as his mother, and him being my beautiful and loving son. Travis was truly a blessing and he's so sadly missed and loved.
Travis wasn't perfect and he made some mistakes along the way but he did not deserve to be murdered. Life and death are decisions for God to make because he is love. Travis graduated class of 2013, and he continued his studies with first class Academy Security School in August 14, 2014 he received his certification. In September 04, 2019 he attended Powered Industrial Truck Operator School and received another certification. He was employed by Macy's for several years, until starting a career with Raw Juice in Machine Operations. Travis exceeded in academics throughout his school years. I remember him telling me many times that he was a man and that I had taught him right from wrong and to always stand up for what is right because God sees and knows everything you're doing whether it be good or bad; he will judge you accordingly.
I felt extreme rage when my son was murdered, a feeling of helplessness and hopelessness. I would ask the questions "Who?", "What happened?" and "Why?". This was the most heartbreaking, and painful, enraging pain I ever felt in my entire life. My pain was so severe it hurt to breathe and I would look up to heavens and yell "No! No! No!" and think this isn't supposed to happen to my baby boy. I reminded God of my good deeds, feeding the needy, and teaching the word of God. I asked God "What do I do now?". I continued praying and crying out to God for an answer, for guidance and peace.
As days passed, my breathing got less painful and my heart started to reminisce on the scriptures from Ephesians.
"Let all bitterness, and wrath, and anger, and clamor, and evil speaking, be put away from you, with all malice: and be kind one to another, tenderhearted, forgiving one another even as God for Christ's sake hath forgiven you."-Ephesians 4:31-32
"Be ye, therefore, followers of God and walk in love."-Ephesians 5:1-2
These scriptures began to manifest in my spirit and I started meditating day and night on them. I gained my peace and focus back and was able to concentrate and feel what God was putting in my heart. I felt his peace, love, and comforting words of encouragement. My mind was renewed and I knew that God would never leave, nor forsake me. My breathing was without pain and I could feel the pressure begin to leave my chest. I didn't ask the questions anymore. I started praying for forgiveness and repentance for whoever murdered my son. I thought about my son, and the words in the scriptures stayed in my heart as I was reassured by the word of God that Travis's life was already planned and predestined - He's in his resting place for a moment.
My heart changed from despair to a deep passion for transformation. I needed to be a part of the solution, and the effort to conquer gun violence and senseless killings in my community and beyond.
Please show your support and be a part of the solution by making a donation to The Travis Donte Leslie Sr. Foundation. With everyone being a part of this movement, and demonstrating love for all lives, we could conquer gun violence and senseless killings and create a safer, happier place to live, along with a brighter future, starting today!
Sincerely Yours,
Berta C Leslie
Founder/President/Ma